The way residential construction should be done
New Green Home Construction
Extremely energy efficient and environmentally conscious, our homes are built to exceed typical construction in every way.
From updated bathrooms and kitchens to additions and decks, we can help you turn your house into the home you love!
Go beyond typical 2D prints with our 3D modeling services and truly see your proposed project from a real world perspective.
Environmentally Conscious
Being "green" is about more than recycling or remembering not to let the water run.  It involves a commitment to reduce our environmental impact.  With both our business and the projects we create, Abueva Builders strives to be a construction company with a conscious.
Exceptional Energy Efficiency
Go beyond building codes to achieve a level of high performance.  Our most recent project was shown to be 53% more efficient than an Energy Star Home and 68% more efficient than standard new homes!
Homes should be built so that they are usable and beneficial to all residents, now and in the future.  Embracing Universal Design ensures that our projects are functional regardless of age or ability and have better resale value.
With a degree in Environmental Science, our owner knows what it means to be green
Over 15 years in the residential construction industry
Genuine concern and empathy to our customers needs
3D modeling services that are superior to traditional architectural plans
Authorized by the State of Michigan to provide all your residential construction needs
We have researched hundreds of products to help you choose the best materials for your project
We are credentialed by the following organizations.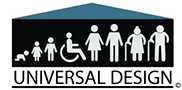 I was impressed how Abueva homes takes the time to do it right, while being sensitive to my budget. Overall, I just trust Paul in every way.
Abueva Homes architectural drawing services saved me 20% in material cost and 30% in labor, on one renovation job.